Hydropool Hot Tubs in Surbiton
Our family-run business has been providing high-quality hot tubs near Surbiton for decades, and we are ready to help you find your perfect hot tub or swim spa today.
Want to find out more about our hot tubs? Surbiton is not too far from Addlestone, where you will find our showroom. Book your appointment today and try out our hot tubs for yourself.
Hot Tubs Have Many Benefits
One of the main reasons why people choose to get their own hot tub is to relax and enjoy massaging water jets whenever they want.
But hot tubs also have several health benefits, from soothing headaches to helping with stiff joints and muscles. They may even have benefits for circulatory health and help to lower blood pressure. Try one of our hot tubs in Surbiton and see for yourself.
Discover more
The Hot Tub Specialists Near Surbiton
Surbiton is located in South West London. A historic neighbourhood of large townhouses, it is only a few miles from Central London.
Wherever you live, whether near to Fishponds Park, Berrylands Nature Reserve or near to the River Thames, we can provide you with the high-quality hot tub or swim spa you are looking for.
Hot tubs are more popular than ever before. But if you want the very best spa pools, Surbiton is a great place to find one because it is not far away from our showroom in Addlestone.
If you're looking for swim spas and spa pools in Surbiton, just book your showroom appointment and take the A3 or Portsmouth Road to arrive in under half an hour, or travel by train.
Book an appointment today and discover our high-quality models for yourself.
Discover Our Products
We have several product ranges to choose from, including Serenity Hot Tubs, Self-Cleaning Hot Tubs and Swim Spas. Surbiton residents can book an appointment at our showroom to try them out. Find out more about each below.
Discover more
Self-Cleaning Hot Tubs in Surbiton
Hydropool has led the way with Self-Cleaning Hot Tubs for many years. Now, you can get one for yourself.
Relaxing, soothing and great fun, these hot tubs also stay clean for longer, which means less hassle for you. They are safe and well-insulated, so you can use them all year round, and they boast unbeatable quality.
Discover more
Serenity Hot Tubs in Surbiton
Discover the Hydropool Serenity Hot Tubs range. These premium hot tubs are designed to provide advanced hydrotherapy for people with stiff muscles and joints. They have been designed alongside osteopaths and physiotherapists, and there is no better way to relax.
Discover more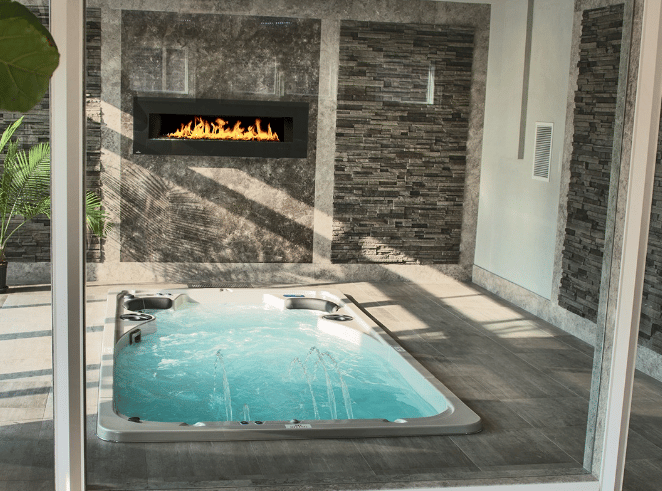 Swim Spas in Surbiton
The Hydropool Swim Spa range is perfect for anyone who wants to enjoy swimming in their own garden without the need to install a full swimming pool.

Small, powerful and made to the highest standards, our swim spas in Surbiton are safe, durable and use saltwater technology. You can also choose the current and temperature to create your ideal training environment.
No Sales Pressure
We have many years of experience at Hydropool Surrey, and Hydropool has long been known as one of the best hot tub manufacturers in the world, so we don't feel the need to use any sales pressure.

When you try our hot tubs for yourself at our showroom, you can do so in complete comfort. We also provide excellent customer service, so if you have any questions, just ask.
Free Delivery & Installation in Surbiton
What happens after you order your hot tub or swim spa? Surbiton customers need not worry. We will arrange all the delivery and installation for you free of charge, and we will even visit your property beforehand to help you choose the perfect spot.
Book Your Showroom Appointment
Ready to try out one of our swim spas or hot tubs? Surbiton is not far from our showroom in Addlestone, so book your appointment today and try them out in comfort. We have changing rooms and you won't face any pressure to buy.
Latest News
For the latest news, advice, tips and insights into hot tubs and swim spas, the Hydropool Surrey blog is the place to be.
What Customers Say About Our Hot Tubs
Great service and friendly team, not pushy sales and gave us good advice on choosing a model of hot tub. We are loving the hot tub and would recommend Hydropool Surrey
Fraser Shannon
We are living in strange times when is hard to get what you really want. We ordered a hot tub from Jonathan, but because COVID it was always postponed, so we decided to get something which they have in stock in the UK, and not wait anymore. We are very pleased with sale, delivery, communication. Thank you Jonathan & Adrian for your help to choose right and best product. Will definitely recommend you to anyone who is looking for excellence from A to Z.
Miroslav Hrib
Very professional, friendly, no pressure service. Explaining fully about each hot tub. Fabulous collection of hot tubs on display - plus local to me a bonus. Delivery, setting up all went smoothly. Have my Hydropool self cleaning hot tub installed - do not want to get out of it. Very helpful to have different finance options available. Do not hesitate to call in, make an appointment.
I Kelly
Excellent product and excellent service/support. I would fully recommend Hydropool Surrey if you are looking to buy a quality hot tub.
Nick Devereux
We're very pleased with the service and advice provided by Adrian. We hit a few issues with the delivery but these were all resolved and Adrian provided a 5 star service from start to finish.
Jason Selfe
When we decided to have a hot tub we were advised to go top quality. So we went to Adrian (Hydropool Surrey) and we're not disappointed. We visited them in Clifton Garden Center. We chose model that suited our requirements & had it installed Sept 2021. Great help & advise and installation was seamless. We use it all year round, it's fantastic after a busy day at work as it washes away stress, totally recommend these guys.
Kevin Derek
Adrian's customer service was fantastic. To help us choose between a Swim Spa or a Hot Tub, he encouraged us to try out both in the showroom with advice on the benefits of each. His primary concern was that we ended up with the best product for our family, and was very patient. We're delighted with our purchase - every day we congregate in the Hot Tub as a family, and the kids open up about their thoughts and feelings more than ever before.
Bill D
I am a Double Paralympic Champion, and I am classified in the S12 classification for those swimmers with a visual impairment.

I am extremely impressed with the quality of the training hydro pool at Hydropool Surrey. I am currently training for the Paralympic Games in Tokyo next year, and due to the pandemic I was in need of somewhere to maintain my swimming training. Adrian at Hydropool Surrey, agreed to support me, providing me access to one of his training hydro pools to train in.

I am very grateful for Adrian's support, and I highly recommend this hydro pool.
Hannah Russell
We love our new hot tub! Adrian and the team have been fantastic and very accommodating through the whole process and now our only issue is trying to get our 4 year old out of it! Thank so much! Highly recommend!
Elizabeth Deane