Want your home hot tub to look like a custom built-in spa that blends in perfectly with your garden landscaping? Then you're going to want to look into creating an in ground hot tub.
Our complete guide will shed light on how to build your own hot tub in the ground.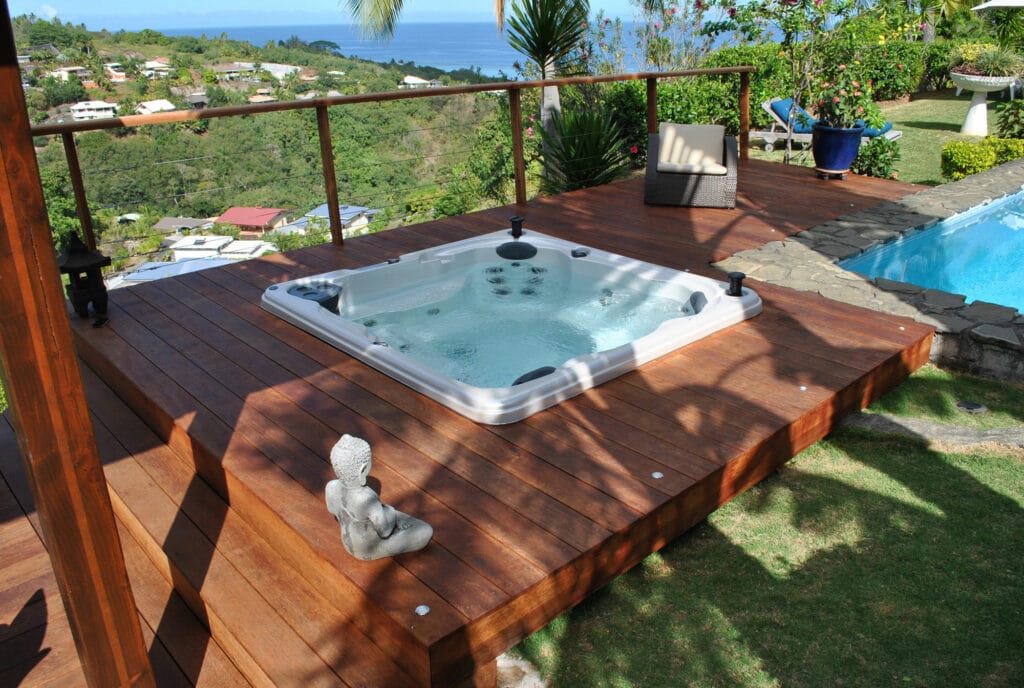 Keys to Installing an In Ground Spa
An in ground spa can be sunk partially or fully into the ground, providing a far more integrated and streamlined look than a hot tub that simply sits atop a patio or deck.
With some careful thought and planning, in ground jacuzzis can seamlessly merge into their surroundings, whether that is brick paving, stone slabs, wood, stones or even an artificial lawn.
Accessibility is also given a boost with in ground spas. Instead of clambering up into your hot tub, you get to effortlessly step down into it, which is much more graceful, and safer too.
Providing you choose a robust, well-constructed home hot tub brand that is engineered from durable materials, you can rest assured that below ground, it will stand the test of time, standing up against corrosion and other forces of nature.
What to consider before installing an in ground spa?
There is a growing trend to landscape hot tubs into the garden, so that they look less imposing.
To install an in ground hot tub, you will need to lower it into a recess in the ground. Before you do, be sure to consider how you will maintain it, and have it serviced.
Regardless of location, hot tubs must always be installed on a firm, level base which is capable of supporting the weight of the hot tub, its water and the bathers, without risk of movement.
You will typically need a floor loading of well over 500kg per metre squared. Even if you believe that the surrounding ground is solid, you must always build concrete retaining walls, and tank them with a suitable waterproofing material so that ground water cannot penetrate the hot tub recess.
If that were to happen, the hot tub could be flooded, causing expensive or even irreparable damage.
For this same reason, it is vital to put measures in place to remove excess water, such as a drainage channel built into the base of the recess, fitted with float-switch operated pumps, which should have their own dedicated RCD supplies to prevent the home electrics being tripped in the event of an issue.
The electrical connection point also needs careful thought. It will need to be situated as high above the floor of the recess as possible so that it is kept away from potential flooding.
Finally, be sure to allow adequate ventilation in the recess so there is sufficient airflow to keep the pump motors cool and prevent the build-up of humidity.
It is vital that a suitably qualified electrician undertakes the electrical work and signs it off as compliant with Part P of building regulations.
How to install an in ground hot tub
When installing an in ground hot tub, success is always in the planning. Here are the key steps you or your contractors will need to follow:
Step #1: The dig
Your recess will need to be a good 20-30cm wider than the footprint of your hot tub, and a minimum of a metre from the top of the spa. Don't forget to allow space for any edging that may lap over.
Step #2: Preparing the hole
Dig your drainage channel and install your pumps. Then install your waterproof membrane before lining the recess with concrete blocks to reinforce it.
Once the cement has gone off, you are ready to lower the in ground hot tub in and get your electrician to connect up.
Step #3: Finishing off
You can blend your in ground spa into your garden by surrounding it with the landscaping of your choice, such as a rockery, planting, lawn, natural stone, decking or a privacy wall or screening.
Leave in ground hot tub installation to the experts
Quality hot tubs are key to the success of an in ground home spa experience. Our self-cleaning hot tubs here at Hydropool Surrey are expertly engineered, and constructed from highly robust materials that are designed to stand the test of time, whatever the conditions.
The specialist expertise of our family-run team has been trusted for more than three decades. So, if you are looking for tailored guidance on choosing and installing a hot tub, why not make an appointment at our purpose-built hot tub showroom in Addlestone, Surrey?
We'll be on hand to guide you around all our demonstration models, in ground jacuzzis and swim spas, which you can try for yourself in warm, private and comfortable surroundings.
Please get in touch for helpful advice on built-in hot tubs or book an appointment at our showroom to see and experience our range in person.